Discussion Starter
·
#1
·
Last night I couldn't sleep.
I've been working on cleaning, organizing, simplifying. And I was looking at my livingroom....
This is my main daycare area.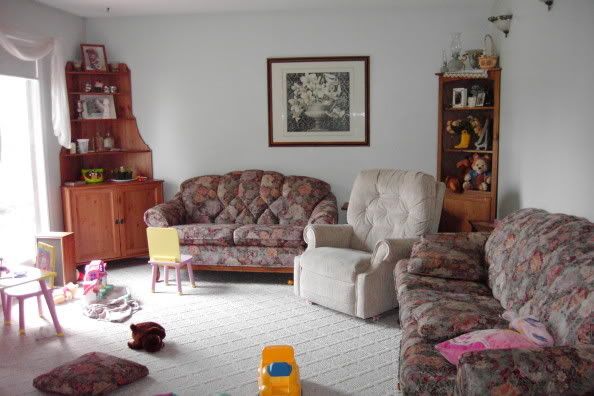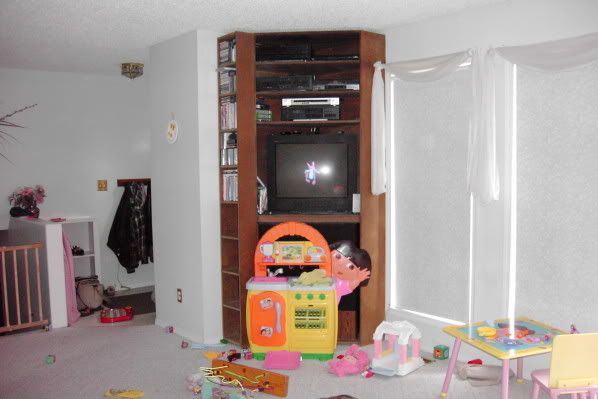 I'm thinking of turning it into a complete/permanent daycare room. My goal is to pay off the house within the next 7 years. After that the house is paid off, I want to save and do a major renovation on this level, pretty much gut it, new kitchen, move walls. Open it up. As it is right now, it's a daycare room no matter what, why not make it totally kid friendly a remove what they could destroy.
Dh have talked about selling the furniture, it's somewhat delicate and the kids can be hard on it. It's still got value. With that, we can invest in the leather sectional he would like to have in the family room. The corner units and side tables... I think I'd sell them as well, but would consider storing them as I do like them, but not sure they'd work in my vision for open concept here.
SO, the unit with the TV adn stereo would remain. The kids watch movies, listen to music. It's up and out of reach. Behind the kitchen set is a cabinet that locks to store movies, CD's and special occasional toys(as in not everyday play, keeps them special). I'd like to get a computer armoire and have a computer in the room. This would allow the kids to occasionally play, my kids could use it completely supervised. But tuck it away. On top of the armoire could be used to display our art projects.
I have a train table coming, I have other "centers" as well, that can't be out often as with the furniture it's too cluttered. Older kids could use the room in the afternoon for their naps. I'd make large pillows, dh will build me a shelf for books, you know the ones where the books face forward with a guard rail, near the pillows for comfy reading time. Perhaps get a bigger child size table in there that can sit 4 to 6 kids. Ikea has a nice round one that would work. Some big puzzle foam pieces to protect the carpet more, it's getting pricey to clean it 2 to 3 times a year. And a child friendly loveseat.
At the back of the house, off the kitchen is the dining room, that is now the storage/junk/computer/sewing room. I want to clean it up. I want to get rid of some of the computers(there are 3) and move the others out. Take out the craft tables, declutter and simplify so that things can be only on the storage shelf. Put curtains on the storage shelf, this holds some scrapbooking stuff, paperwork, kids crafts, baby supplies. So tidy it up. I'd like to put in my playpens/cribs in here. a spot to store the stacking highchairs when off hours.
I hesitate because it is the mainfloor, front room. BUT, it's always cluttered with toys no matter what. I plan to continue this until my house is paid off, the reno's saved for. So I think it won't make a difference. We watch TV and entertain in the familyroom (1/2 level down) anyway. I would to that room to daycare, but I have a fireplace I run all winter, so it's not safe IMO, plus the kitchen is upstairs. With the loveseat and pillows, my own kids could use the space to watch movies, relax there. I am always with kids so I don't mind watchingtv in the evening there while dh watches hockey or something I con't want to, that's what we do anyway. My hesitation is that it's the front room.
Do I really care what my guests think? It's always family, I don't have many friends..lol. I have no time.
I think it would add tremendously to the daycare to have a nice kid friendly room just for this. I'd be able to organize it so it works sooo much better. I really wish ther fireplace had been upstairs on the main level instead, but it's not.