Discussion Starter
·
#1
·
Recipe Description
These are a Northern Irish favourite and are absolutely the best tray bake :lip: Fifteens are full of marshmallows, cherries and sweet biscuit.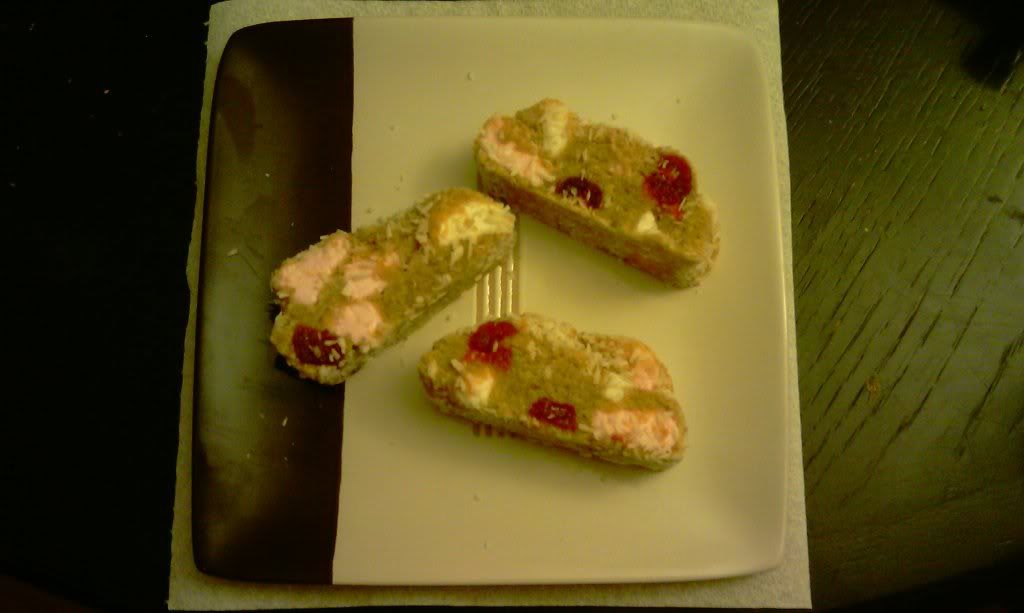 Preparation Steps:
​
Level of Difficulty:
Easy​
Time Needed:
Nice and quick.​
Ingredients:
15 marshmallows

15 glace cherries, halved

15 digestive biscuits, crushed

2/3 cup condensed sweetened milk (approx 150mls)

Enough desiccated coconut to cover all sides of mixture​
Serves:
​
Directions:
Cut all the marshmallows and cherries in half and add to a large bowl. Then add the crushed digestive biscuits to the bowl and mix around.

Slowly pour in the condensed milk and stir thoroughly. The dough should be sticky and moist, not dry.

Take a sheet of aluminium baking foil and sprinkle a generous amount of desiccated coconut onto it.

Shape the fifteens mixture into a large, wide sausage shape on the foil and add more coconut to the outer surface of the dough. Wrap the fifteens up in the foil in the sausage shape and refrigerate for at least an hour – may take longer if the dough is especially sticky.


NB:
I know that digestive biscuits are traditional to the UK, so if you are using an alternative such as Graham Crackers, just be sure to use enough to make the biscuit bit of the mixture pretty dense.​