Discussion Starter
·
#1
·
I thought it would be fun to share my stockpile
And I'd love to see your stockpile too! This is h&b and paper products. My pantry is disorganized right now.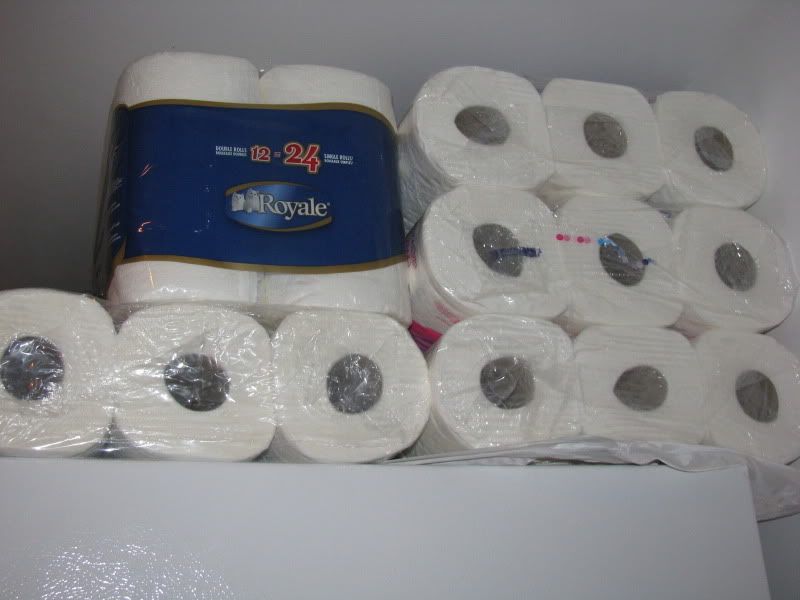 This is above my upright freezer. TP. Purchased when it hits $4.99 and with a $1 coupon. Hoping to see better prices, but that seems to be it around here.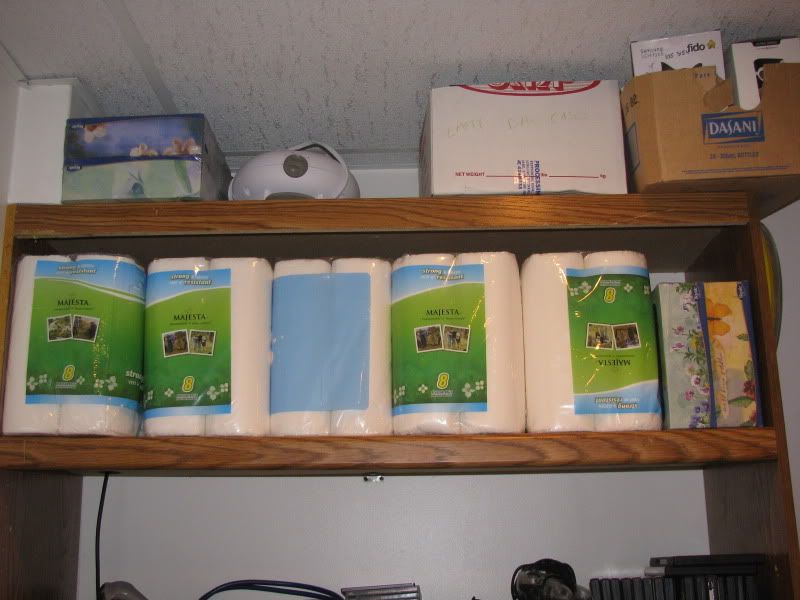 This is again in the basement, above a tv we have set up for the kids, other storage is there too. There is 2 8-packs of tissue, bought for $2.99 after coupons. And 5 packs of paper towel. One was puchased for $1.99 which is a great price, but the other 4 went on sale for $2.97 and I some coupons, buy 2 save $5. So they ended up being $.47 per pack! Can't beat that! We use it as bedding for the kids geckos, so it is a great find.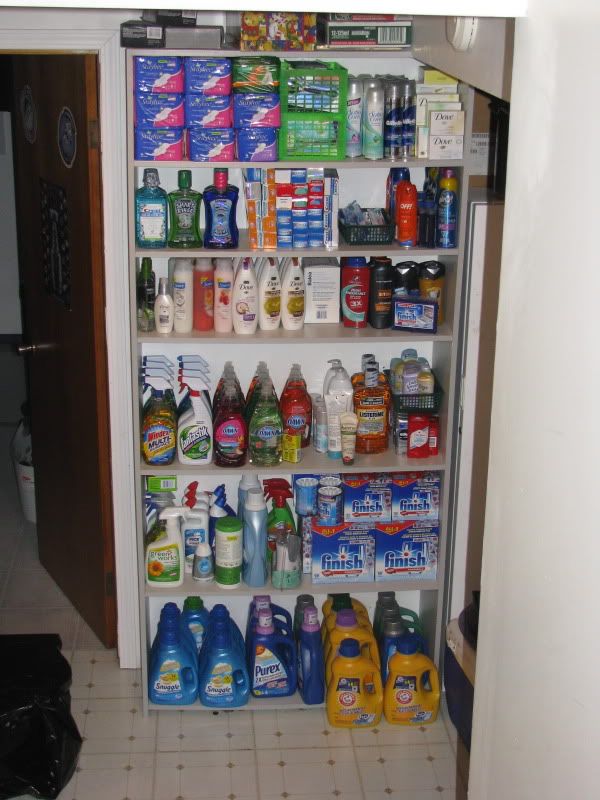 Now this is my h&b and cleaning shelf. I am quite tickled pink. I will not need to purchase many things for a LONG time. Pluse it was purchased for pennies on the dollar. This took 3 months of couponing and sale watching to accomplish. The Dove, Purex detergent, Toilet ducks,toothbrushes, OFF! Fantastic and Finish were tax only purchases. All the deodorant, toothpaste, Dawn, shaving creams for $.50 or less. Fabric softeners were purchased for 75% off, Axe was for $1.25, Old Spice body was $.75, Resolve stain treatment $1, Windex $1.50, Listerine $1, Gillette Razors $1, Kids oral rinses 65% off(only 4 there, not the full shelf), Curel Lotions, large were $1.25 and 2 free tubes, Aveeno 3 free samples, trial size shaving foam - free, Suave Shampoo $1, StayFree - from free to $.49 depending on the weeks sale.( I bought 2-3 per week, there are 2 of us using it, and soon to be 3 -ugh), Pledge $1.30.
So I'm pretty stocked. Yes, there is more toothpaste than I anticipated buying, but it expires in 3 years
So I averaged it out. We go through 12-18 per year, depends on size of tube, so this is almost 2 years. There is a variety there, sensitive, whitening, kids flavors, and regular
To accommodate all the needs of the family. It looks like lots of detergent, but it's only 32 loads for all the purex. I do an average of 14 loads a week. So I have about 9-12 months there. Fabric softener lasts a little longer. Most of these items have 2-3 year shelf life
So I don't need to get most of this for quite awhile! It's nice to answer "No we're not out, just get one from 'THE SHELF'.
Since starting this, my grocery budget has gone WAY down. Since I don't need to buy h&b as a regular item, I can get away from the $250/week we were budgeting to... ready? $100 AND there's left over! I still am building a grocery stock pile. So I keep an extra $40 available for good sales, but usually $15 is all I use. Now I just keep watching for rock bottom prices
Not show here, as I keep it away from the kids is Motrin .99, Advil PM tax only, dh preferred hand lotion(hates fragrances), full size Aveeno lotions .99 (hidden away as dd14 will claim it all), travel size shampoo and conditions by Nexxus-tax only, L'Oreal .99.
Think that's it.
And while it's a large size stockpile here, I didn't clear shelves. Most was 2-4 at a time. Sometimes only 1. It took from beginning of May til now to do it, I had to get coupons, ordered, traded, found some tear pads, to do this. I joined coupon trains as well to get more variety. The only item shown that I bought a larger quantity was the Dawn. But there were oodles and oodles and the manager didn't have a problem with it.
The only thing I need to build now is my TP and tissue supply, with 4 females in the house, and 3 potty training toddlers we seem to go through alot!
Now to figure out what I want/need to stockpile for groceries.
I would love to see your pictures!