Discussion Starter
•
#1
•
I only got them to sit still for about 15-20 minutes. But we read a bit about the earth, sun, & moon. We talked about the earth's rotation, day & night, and the earth's orbit around the sun. We also talked a little bit about the phases of the moon. That was where I lost them a bit.
DS10 drew a picture in between showing his brother with the flashlight and the globe how the sun shines on one side of the earth at a time.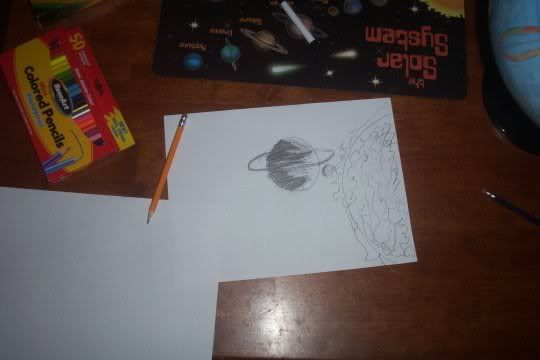 DS6 was irritated that he couldn't play video games RIGHT THEN so he really didn't want to participate at first. But as I read and his older brother was getting into it, he started creeping closer & closer. By the time we were talking about the phases of the moon, he was into it. So he grabbed the Interactive Planetarium (that we just picked up at a yard sale for 75c) and started playing with it.
That was the extent of our first day. Starting it out slow and still trying to keep it fun and informal.