Discussion Starter
•
#1
•
Spring is a great time to evaluate and re-home your stuff so I've gathered some projects and tutorials to help you organize!
------------------------------------------
Need a place to gather incoming and outgoing mail, papers and keys?
Wall Mail Sorter
Corral all your baggies with this organizer:
Grocery Bag Dispenser
Whip up some super hampers for every bedroom in your house:
Hangable Hamper
These fantastic rectangle boxes would be great drawer organizers:
Versatile Trim Box
This pattern and tutorial for a clothespin bag would also be handy for storing delicates, scarves or belts in your closet:
Hanging Clothespin Bag
Here's a nifty folder to carry your important papers:
Custom File Organizer
Need some help keeping all the kid's toys off the seats and floor of your car? Make some pocketed seat covers to hold them:
Car Organizer
How about some beautiful cases for grandma's fine china?
Dinnerware Storage
Having a clutter problem on your nightstand or end tables? Sew a
Bed Caddy
or
Armchair Caddy
.
For all your clothes closet, entry shelf and car trunk storage needs, make tons and tons of fabric baskets!
Soft Patchwork Basket
Soft Fabric Basket
Stabilized Storage Basket
Storage Basket with cardboard stabilizers
Storage Cube
Fabric Cube Using a Plastic Crate
-------------------------------------------------
This week's member project of the week honoree is Dolphin for her potholders and petite grocery bag holder!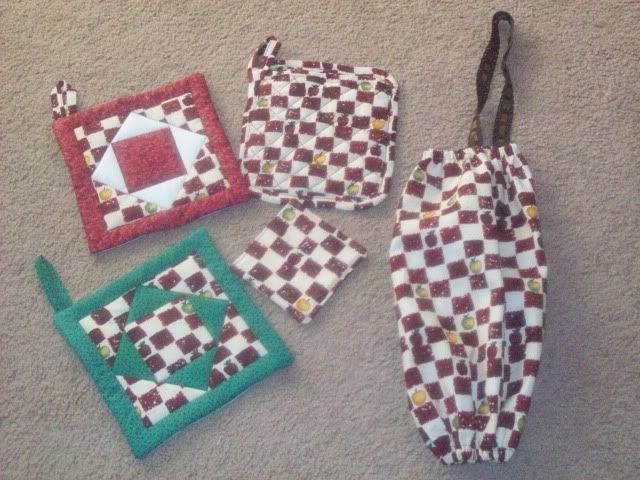 Remember to post pictures of your projects so we can all admire your work and be inspired!!!
------------------------------------------------
If you would like to sign up for the sewing club please see this thread:
Sewing Club Sign Up
Actively participate by posting a thread of your own telling us about your latest project or questions, or join us on the
2010 Sewing Challenge
thread! You choose what you want to accomplish for the month, one item, 4 items or more and post away!
And lastly, we share a Retreat Weekend with the other hobby clubs here:
Monthly Quilting/Sewing Retreat 2010
Currently it's held on the last weekend of the month. We gather to power through our UFO's, urgent projects and just have fun crafting together all weekend. So set aside as much time as you can for the weekend of April 23-25 and plan to join us!
------------------------------------------------​